Over the holiday break I finally got around to creating a little something I've been wanting for awhile: a calendar of the web community events in Austin. Check it out at austin.geeknite.info (and then come back for the rest of story if you wish).
Austin GeekNite Info actually started as a simple spreadsheet of the local web groups I regularly attended and their typical meeting nights. But since I'd also like to know what's going on in other communities (and my wife would like to know where I think I'm going) I started looking at ways to automate the process of adding events to a calendar.
As luck would have it, Google Calendar provides the means to add iCal feeds from other sites to your calendar AND share this newly aggregated event calendar with others. Nice. The wife will be happy. By why stop there? Overwhelmed by the spirit of the season, I grabbed the geeknite.info domain and prepared a simple calendar page to share with the rest of Austin.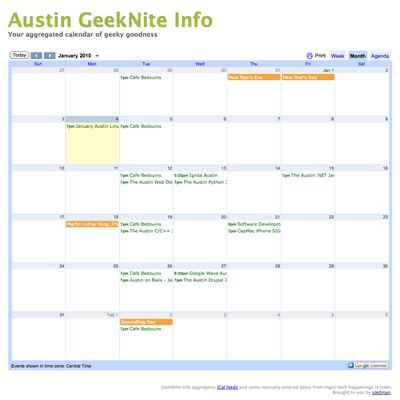 Initial release
Adding and editing iCal feeds in Google Calendar can get a bit unwieldy so this first version of GeekNite applies Tony Hirst's Delicious Pipes solution for managing iCal feeds. It's a pretty slick fix for getting around Google Calendar's limitations.
Basically, we're manually collecting iCal feeds from around the Austin tech community on Delicious.com. We then massage the RSS feed from that Delicious list into an iCal feed with Yahoo! Pipes. Google Calendar happily chomps on that iCal feed and spits out a pretty calendar that can be embedded in any HTML page with a snippet of iframe code.
We end up with a decent calendar that can be viewed in a few different ways (weekly, monthly, agenda). Clicking on an event brings up a bubble with more details and a link to add the event to your own calendar. Nothing too fancy, but useful.
Next steps
I had to manually enter some dates (e.g, Ignite Austin). That's something that I'd like to get around in future iterations. It's 2010 folks and time for y'all to add semantic mojo (in the form of iCal or vCalendar microformats) to your sites. Perhaps that'll be one of my base requirements: iCal or no-cal.
The whole Delicious Pipes layer is a temporary hack to get this rolling. I'm guessing there's a way to sniff out all the local web event iCal feeds sans spam/noise but I just haven't looked into it that much yet.
As long as I'm at it, I'd like to break from Google Calendar as well. It's a nice starting point and all, but much too limiting. I'd like to customize the results a bit more to include more information (e.g., group size, number of past meetings) and to format for iPhones and such.
So there it is, Austin.GeekNite.Info. Let me know what you think and how we can improve this little app.
Update
Shortly after I wrote this, Judd Lyon told me about a couple of other Austin web tech calendars already out in the wild: GarysGuide and Door64 (I really need to check with him before embarking on new projects).